Trey Songz + La La are Power's New Stars
...but for all the wrong reasons.
Monday, August 26th | Issue No. 92
MARKET MOVES...
S&P 500: 2,847.11 -75.84 (-2.59%)
Dow Jones: 25,628.90 -623.34 (-2.37%)
Nasdaq: 7,751.77 -239.62 (-3.00%)
PRE-MARKET PLAY...
WHITE BOY IN MANHATTAN PAY MY TAX...
That may have been the case for the late and great Nipsey Hussle but not so much between two different countries.
Trump tried to play big bank take little bank with China by announcing higher taxes on their exports a few weeks ago but they said, "We ain't the ones.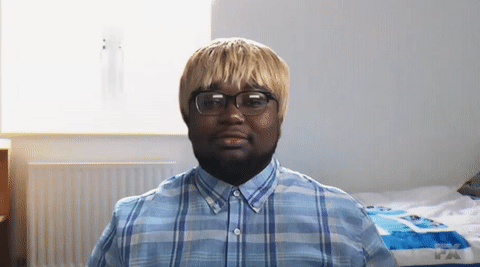 Now, China is putting Trump on notice by returning the favor with higher taxes on U.S. imports. My dad always says, "Stick your hand in do do, it's gonna get messy."​
WHY THIS IS HAPPENING...
The U.S. and China have been extra thirsty over the past year about international trade but have yet to quench it. After a talk earlier this month that Trump calls "constructive", there's still no resolution and he went as far as to say China is going to have to pay to play and imposed a 10% tax on $300B of China's exports into America starting September 1st. China retaliated with a quick two piece late last week saying it's going to tax the hell of some U.S. imports totaling $75B, primarily tech-based items and automobiles. Here are a few companies that have already got got and may continue to do so.
THE RETURN...
Many stocks didn't take well to this and dropped anywhere from 3-5% last Friday.
KEEPIN' IT REAL...
A tariff is just a tax one country puts on another with respect to importing and exporting goods.
BENZ FRIENDS...
Even Future and Andre 3000 ain't sittin' this close in the whip.Target (NYSE: TGT) and Disney (NYSE: DIS) just got down in the DMs with a new partnership that will create 25 new mini Disney stores by October and 40 more within the next year not to mention a new Target store next to Walt Disney Resort in the O.
WHY THIS IS HAPPENING...
Target just lit up its quarterly report last week sending the stock up 20% last Wednesday after it beat on revenue and earnings by driving in more foot traffic to the stores and more consumer spending. Now, even though investors say the stock go up on a Wednesday, Target said ain't no mountain stock price high enough. To continue to satisfy investors, Bullseye is now linking up with Mickey to bring in more customers just in time for Elsa and Anna to start #ColdGirlWinter.
THE RETURN...
Target's stock is up 56% and Disney is up 21% this year.
KEEPIN' IT REAL...
Nothing to see here.
DEATH ROW JUST SIGNED PEPPA PIG...
With PJ Masks being featured on her first single.
Hasbro (NASDAQ: HAS) recently acquired over the pond company Entertainment One which has a lineup of artists like Peppa Pig, PJ Masks, and yes, Death Row Records. Who knew Peppa used to be Suge's homey, used to be his ace.
WHY THIS IS HAPPENING...
Hasbro's claim to fame includes some headliners like Parker Brothers (i.e. Monopoly), Milton Bradley (i.e. Twister), Transformers, and Power Rangers to name a few but now wants to expand its family-friendly entertainment business even more. There's probably not much future with Death Row in the lineup but I'm sure those royalty checks will be great funding opportunities for the next festival featuring 2Pac riding on My Little Pony, Suge Knight finally saying Sorry!, and Snoop Doggy Dogg not passing go and not collecting $200.
THE RETURN...
Hasbro stock is up 30% so far this year.
KEEPIN' IT REAL...
Want to know more about Mergers and Acquisitions? Check out Issue 89.
OOOH I'M A KILL'EM IN THE MORNING...
With this fresh financial fabric. Have you grabbed your Invest tee yet?
Visit our shop and enter code 'PAPER10' to get 10% off your order.
MORE PAPERTRAILS...
DID YOU KNOW...
96% of people employed will not be able to retire by age 65. (via supermoney).
WHO'S GOT NEXT...
Companies reporting earnings today about how much paper they're stackin' (or losing) and new things to come:
SHOW SOME LOVE...
Have a great financial tip to share or a question that Sway can't answer? Reply to this email with your tip or question, and it could be featured in a future issue.
Dr. Eric Patrick
Writer | No to Gin & Juice, Yes to Jack & Coke
Disclosure: This editorial is by no means a solicitation to buy or sell any of the above-mentioned securities. It is merely a means for educational purposes. All investors are subject to their own research and due diligence. This post may contain affiliate links and we may receive commissions for purchases made through links in this post.